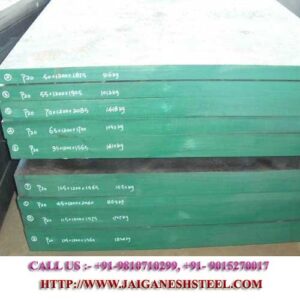 Plastic Mould Steel DIN 1.2311
Notice
: product_type was called
incorrectly
. Product properties should not be accessed directly. Backtrace: require('wp-blog-header.php'), require_once('wp-includes/template-loader.php'), include('/plugins/woocommerce/templates/single-product.php'), wc_get_template_part, load_template, require('/themes/porto/woocommerce/content-single-product.php'), do_action('woocommerce_single_product_summary'), WP_Hook->do_action, WP_Hook->apply_filters, call_user_func_array, porto_woocommerce_template_single_add_to_cart, WC_Abstract_Legacy_Product->__get, wc_doing_it_wrong Please see
Debugging in WordPress
for more information. (This message was added in version 3.0.) in
/home1/srikrx1y/public_html/jaiganeshsteel.com/wp-includes/functions.php
on line
4147
Description
Jai Ganesh Leading Plastic Mould Steel DIN 1.2311,P20 Steel and Mould Steel Suppliers in Delhi. We are supplier and trader of wide range of Plastic Mould Steel DIN 1.2311 or Pre Hard Plastic Mould Steel. All our plastic mould making steel grades are produced with special types of chemical composition and the production process. at the mill allows to the steel to maintain a good mechanical properties for small size Plastic Mould, medium Plastic Mould and large Plastic Mould making.
We are also offering a wide range of P20 Steel 1.2738 Ni ( a High Performance Plastic Injection Mould Steel). This P20 Steel range is used in door latches for the assembly to the minimize noise frictions. These Steel are well designed and are highly demanded by our clients. These are keeping in mind detailed-ed specifications to meet the a growing needs and demand of our all esteemed clients.
Jai Ganesh Steel Company As a prominent company, we are engaged in offering a very wide range of Plastic Mould Steel P20 Grade. this Steel applications in various industries like Plastic injection moulds, petrochemical and others, these Steel products are manufactured by our vendors using a high grade raw materials and with advanced technology Process. we have P20 Steel 1.2738 Ni in reasonably priced our Plastic Mould Steel P20 Grade range without any compromising with the quality.
Plastic Mould Steel  Wholesaling,Supplying and Export utmost quality range of H13Hot Die Steel, P20 Plastic Mould Steel, M35High Speed Steel, D2 Die Steel, En24 Alloy Steel, EN41B Nitriding Steel, C45 Carbon Steel & Tool Steel, 100mm thickness Mild Steel, All Non Ferrous Metal, EN 31 Series Steel. These All Steel products are used in various industries such as Plastic,electronic, petro, thermal power, Railway, and machinery making. The offered Alloy Steel  products are procured from some of the top certified and reliable vendors of the Steel industry. These Tools & Alloy Steel products are manufactured by our National and International vendors using the finest quality Steel raw material and With sophisticated technology in order to meet the All international quality standards. Our procured products Like P20 Steel are Well tested on different parameters to make sure that Steel we are delivering only defect-free range to the clients. The offered Alloy Steel range is highly demanded in the locals market for their features like corrosion resistance, durability, accurate dimensions, precision engineered,  and sturdiness.